Animal well-being

We assure high levels of animal well-being in all the processes of our value chain, from farm to abattoir.
AVÍCOLA DE GALICIA
AVIGAL
For the last 50 years, Avícola de Galicia has been bringing high-quality poultry products to our consumers' tables. In the course of these years, we have adapted to new technologies; constantly growing and evolving, we serve the traditional market while also venturing into new product formats. And in all this time, we have never ceased to create jobs, guarantee animal well-being, care for our environment and honour the trust placed in us by our consumers.
OUR 130 PARTNER FARMS
Avigal's network of partner farms is one of the most modern in Spain. With an average age of 10 years, about half of the farms have been operating for less than five years; the rest have been adapted or are undergoing modernisation to meet current production standards.
PRODUCT AND COMPANY CERTIFICATIONS
QUALITY AND ENVIRONMENT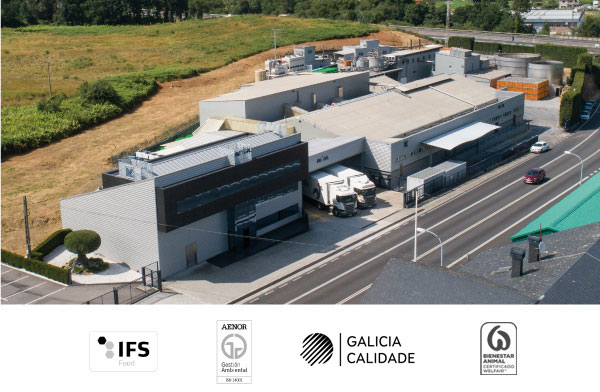 Whether at our partner farms, at our feed factory where we produce the food our animals eat, or at our slaughtering and cutting plant, we constantly strive to maintain the highest quality, food safety and animal well-being standards.
IN-HOUSE FEED MANUFACTURE
We operate a modern feed production plant, providing food for the more than 130 Avigal farms located in different parts of Galicia. Using the best cereals and natural ingredients, we mill and formulate the feed to meet our animals' individual requirements, using latest-generation systems.
VERTICALISATION AND TRACEABILITY
Integration from the source
The Vall Companys Group's integrated structure covers all stages, from producing the feed used at its livestock farms to performing research and ensuring total process and raw material control. The Vall Companys Group is a pioneer in food safety. Thus, Vall Companys has all the necessary tools to ensure total traceability of all meat and to guarantee consistent quality in all its products.
Genetics

Reproduction, Incubation, AI Centre

Nutrition

Raw materials, Nutrition, Feed manufacture

Animal health

Pharmaceutical laboratory, Veterinary team

Animal handling

Biosafety, Partner farms, Training

Transportation

Raw material, Feed, Animals, Meat

Integrated abattoir

Traceability

Animal cutting

Specifications

Packaging

Health guarantee
MAXIMUM QUALITY FROM THE SOURCE
VALL COMPANYS GROUP
The Vall Companys Group is a leading Spanish family-owned agri-food group founded in 1956. The Vall Companys Group's operational model is based on integrating all stages of the production process, and on the work of dedicated professionals who are highly trained in their respective fields.